How to integrate your Zenamu classes into Google Calendar?
If you want your classes in Zenamu to automatically synchronize with your personal calendar, read on.
This solution works not only for Google Calendar but also for Apple Calendar, Microsoft Outlook, and other calendars that support importing via iCal URL.
The integration is one-way, meaning it only works from Zenamu to your calendar. If you schedule a new class in Zenamu, it will synchronize with your personal calendar. If you cancel it, it will also be removed from your calendar.
However, you cannot modify the classes in your personal calendar, and any changes you make to them will not affect the classes scheduled in Zenamu.
Getting the iCal URL address for your calendar​
1. Go to Settings => Public Schedule section​
Right at the bottom, just below the scripts for embedding the schedule into your own webpage, you will find the option for iCal URL.

2. Copy the URL and go to your Google Calendar​
In the left menu under Other calendars, click the plus button "+".

3. Next, select the From URL option.​
4. Paste the iCal URL address of the calendar that you copied from Zenamu​
Add a new calendar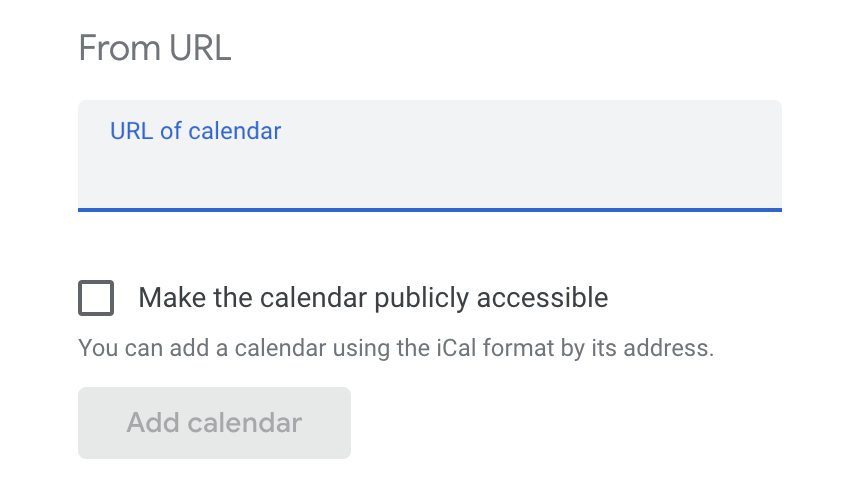 Wait a few seconds for the synchronization to complete. A new Zenamu calendar has been added among your other calendars. If you still don't see your scheduled classes in the calendar, try refreshing your browser.
Data synchronization between Zenamu and your calendar does not happen in real-time. It depends on the settings and load of your program (e.g., Google Calendar). It may take minutes or even a few hours.