How to Create an Online Class
Did you know that you can create online classes for your clients in Zenamu? It's becoming increasingly common for clients to prefer practicing from the comfort of their own homes. Want to know how to create such a class? Read on for a step-by-step guide.
Accepting Payments for Online Classes​
There are several ways to accept payments for online classes. Automated methods include Payments by card, client account credit, or class tickets. If you prefer not to handle manual verification of payments, you can also offer payment by bank transfer to your account. However, note that offering payment by bank transfer is optional.
Create an Online Class​
Before you start creating an online class, make sure to set up your payment card settings , bank transfer payment settings, or have an active client account credit or class ticket system in place.
The first step is similar to creating a classic open class in the studio. Click on the "New open class" button.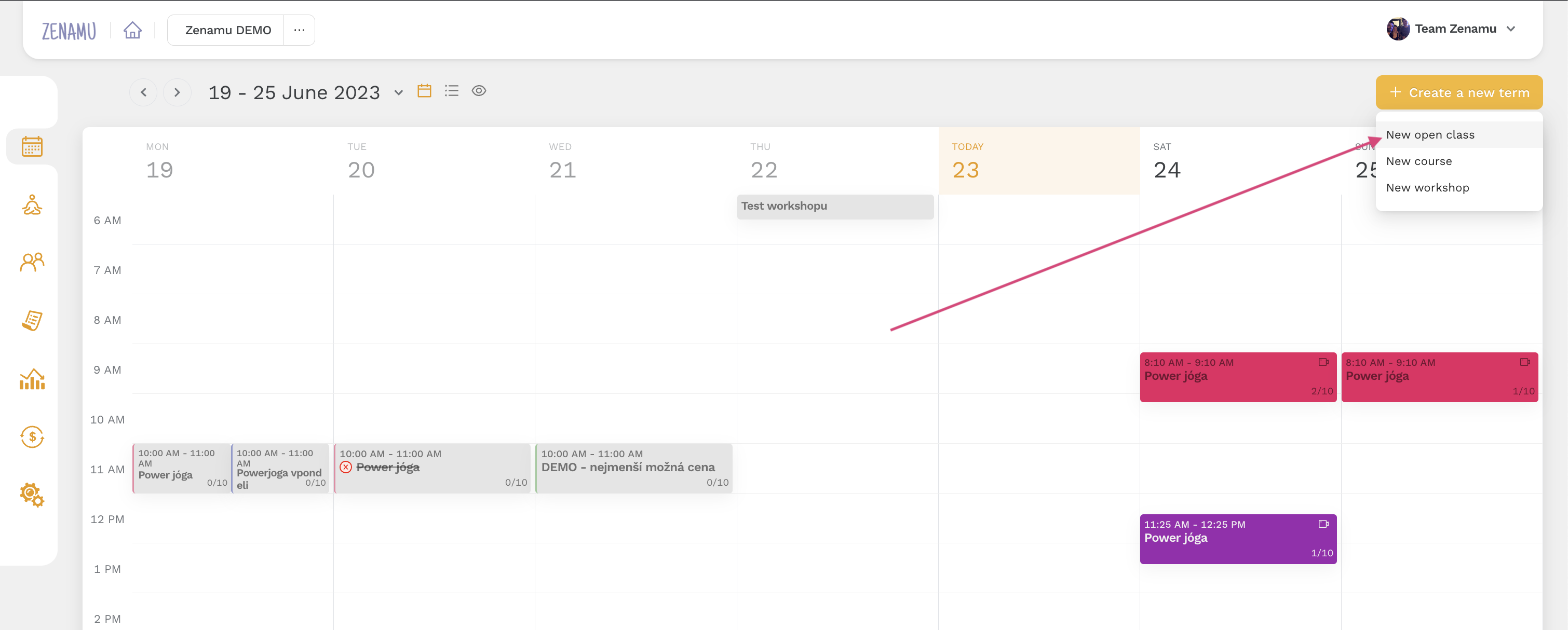 If you don't have templates set up, provide the mandatory information about the class: its name, date and time, description, and duration. For the class format, select Online.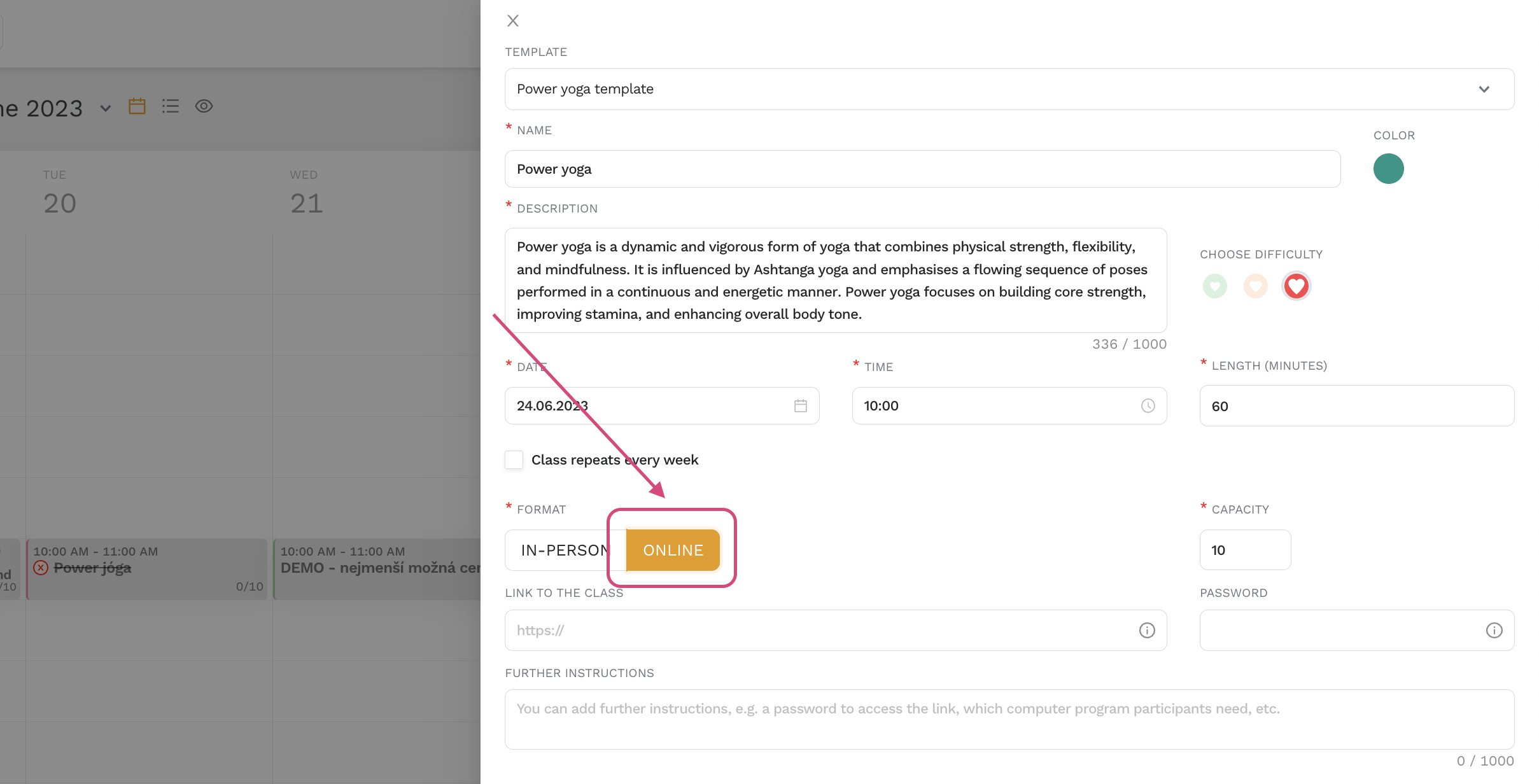 Once you've selected an online class, an input field will appear for you to enter the link to the class (e.g., Zoom, Google Meet, or another tool) where you'll be hosting the class. You can also provide further instructions for interested participants. The subsequent steps depend on whether you fill in these fields immediately or leave them blank for now.
---
TIP 🌸 Zenamu doesn't support hybrid classes, but you can still create a physical class that will be simultaneously broadcast online.
Simply create two identical classes at the same time, designating one as a physical class and the other as an online class. They will appear side by side on the calendar, and participants can choose the format that suits them best.
---
Creating an Online Class with a Link​
If you decide to provide the link immediately, paste it into the appropriate fields along with additional instructions and a password (if applicable) to access the space where you'll be posting the class. Then, enter the other required parameters, and you can publish the online class.

Once you click on the class in the calendar, you'll see all the details, including the link to the class and other instructions.
The link and instructions for signing up will be hidden from participants until they've made a booking and payment.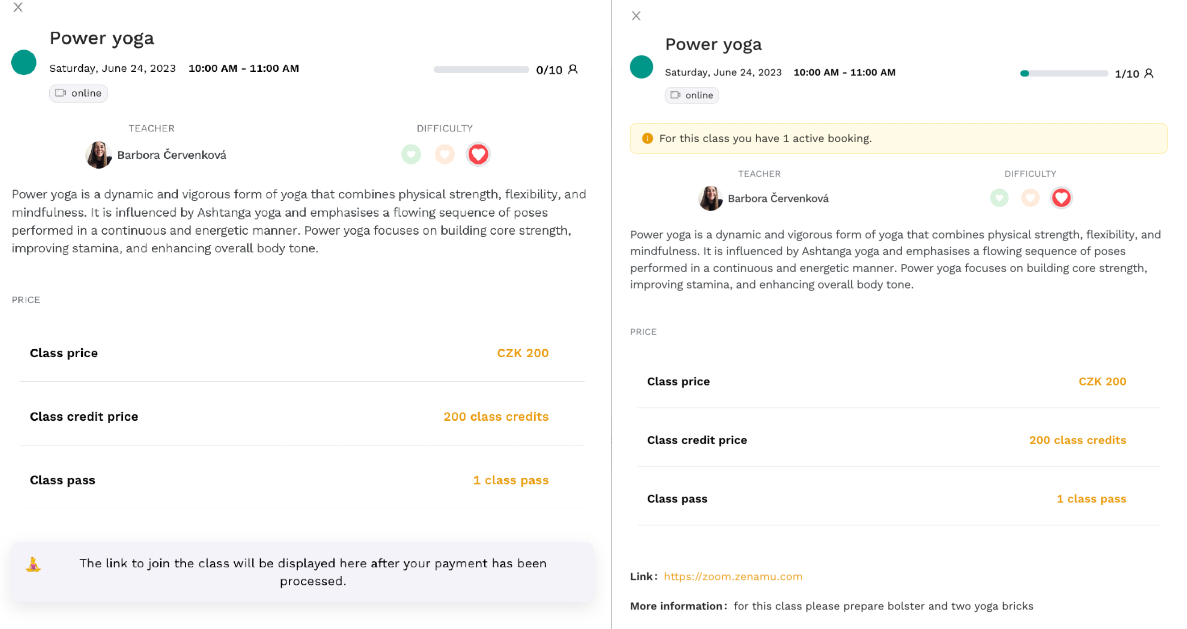 If a booking hasn't been paid for yet (e.g., when paying by bank transfer), participants will receive a confirmation email after registering for the class. The email will contain important information, including your payment details for bank transfer, but it won't include information for joining the class.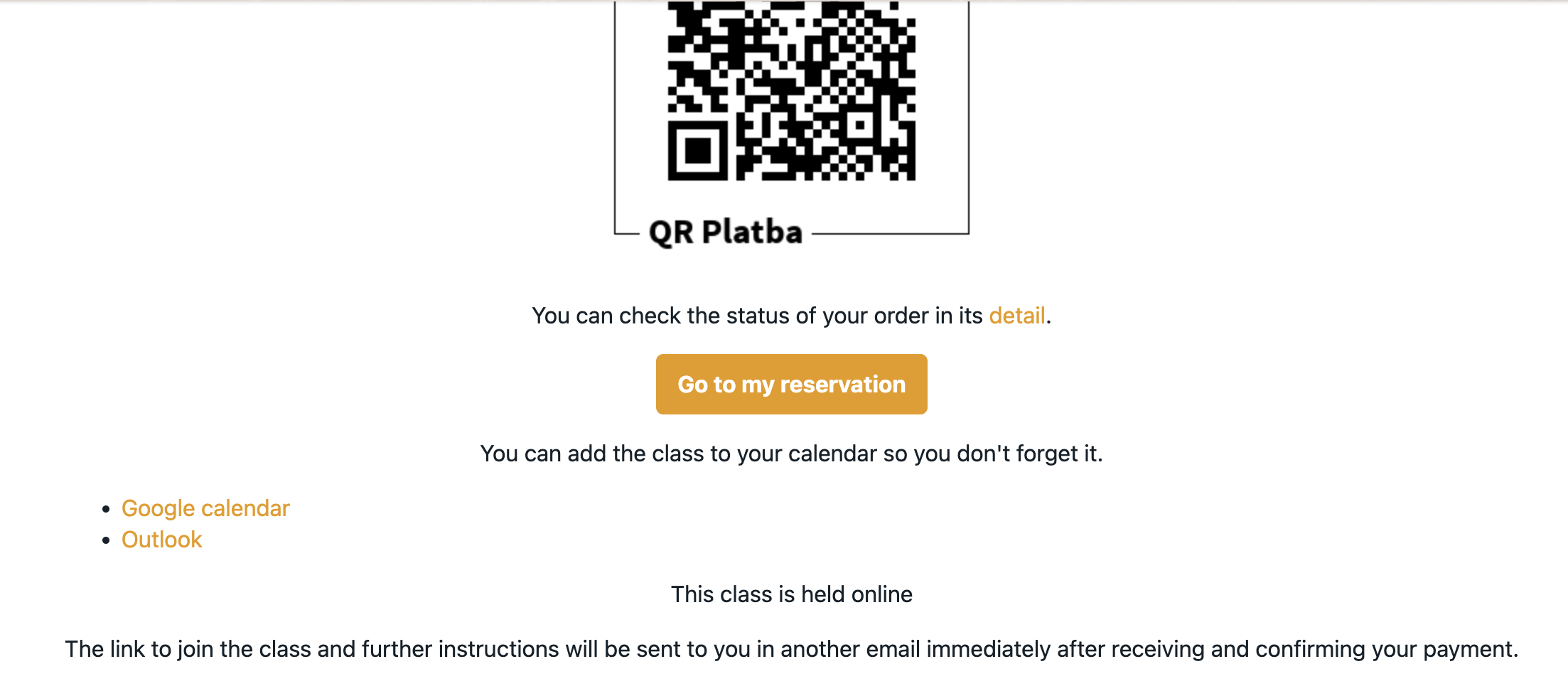 In this case, you must manually confirm receipt of payment for the class. You can find this option by clicking on the class in the Participants section.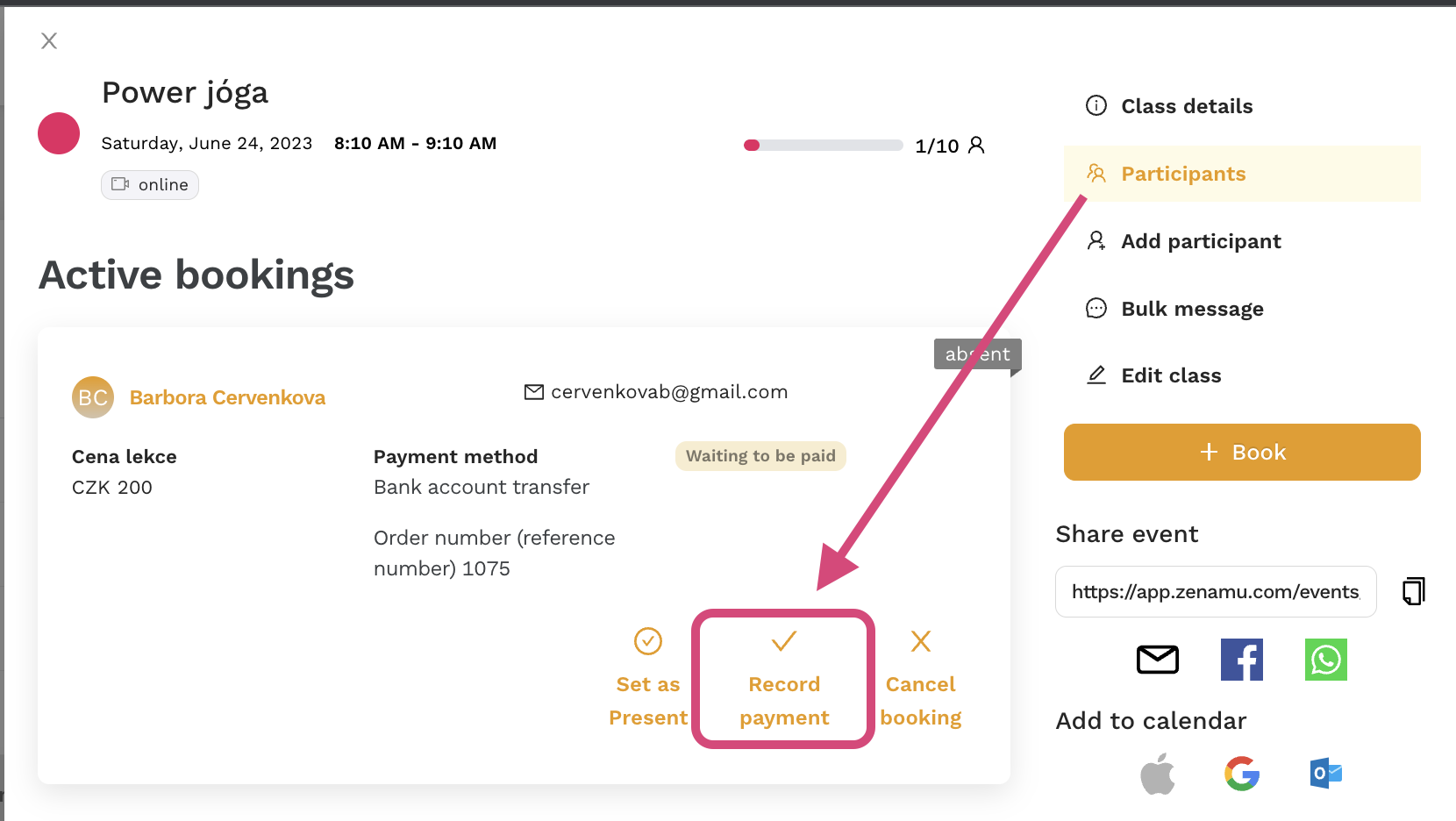 Only then will the participants see the link and further instructions next to the class. They'll also receive all the information automatically in their email inbox.
For participants who've used client account credit or class ticket or paid by card when booking, they'll receive an automatic email notification. This email will include a link to join the class and complete instructions.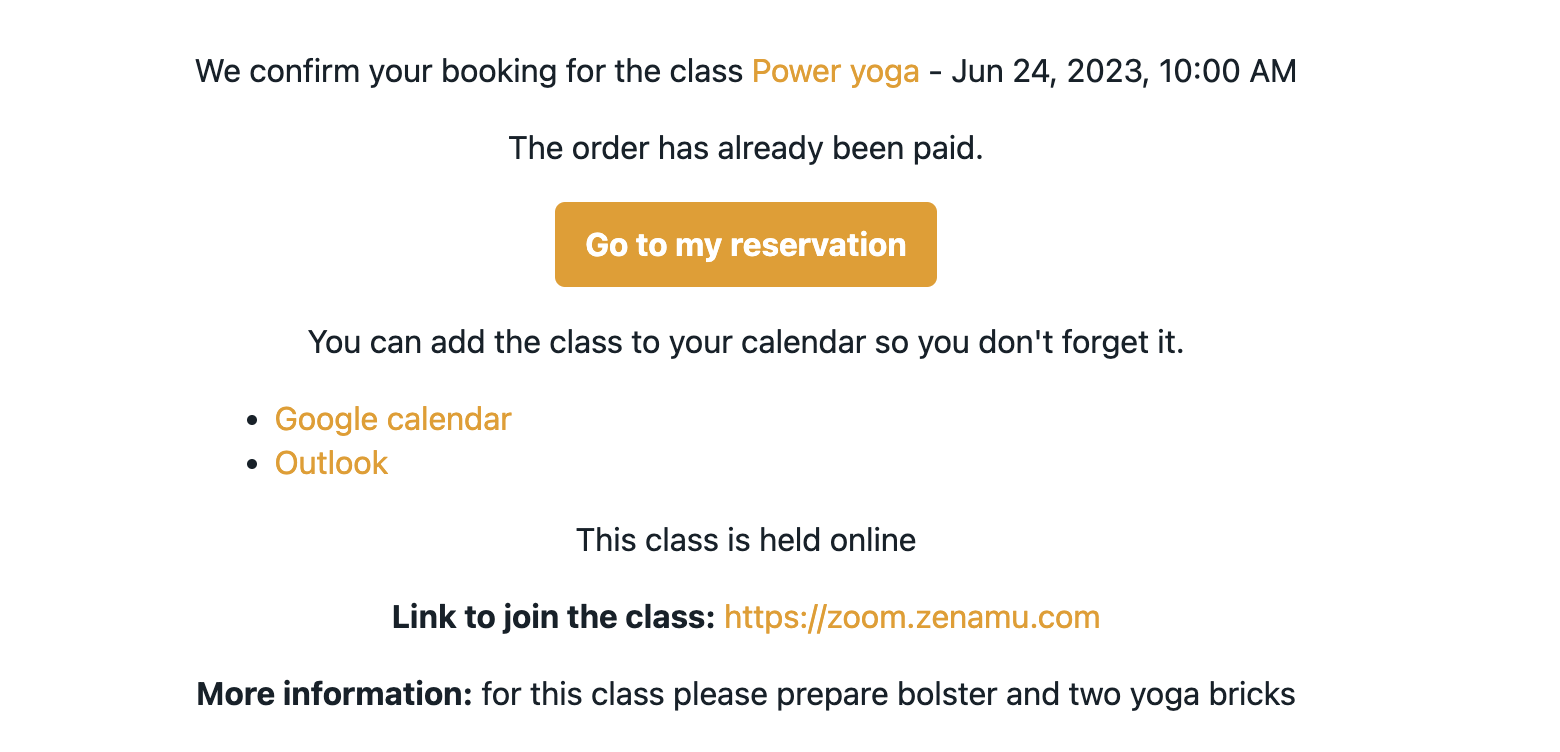 Creating an Online Class without a Link​
If you don't have a link to the class ready yet or prefer not to provide it at this time, you can leave the link field and other instructions blank and publish the class directly.
Participants will receive a confirmation email upon signing up for the class, but the link won't be included. Even after payment, it won't appear in the Zenamu interface (in class detail) when they click on the class.
Participants will only see the link once you add that information to the class.
You don't have to worry about forgetting to add the link to the class. We will also send you an automatic e-mail well in advance, so you can correct it in time.
---
This completes the online class setup! Now you can get on with what you do best - sharing your experience with others.