How Client Account Credit and Class Tickets Work
Many clients prefer using client account credits or class tickets to pay for classes, rather than searching for a payment card every time they book. You can provide them with the option to purchase discounted client account credits or class tickets.
Client Account Credits serve as virtual money, allowing your clients to pay for classes. When they book a class, the corresponding amount in credits (e.g., 15 credits) is deducted from their account.
Class tickets are essentially prepaid bundles of classes (e.g., 10 tickets for 100 EUR). If a client books a class priced at 10 EUR and chooses 1 entry as their payment option, one ticket will be deducted from their account.
Similar to account credits, you can offer discounted packages for class tickets. You have the flexibility to determine the number of tickets, set the price, and define their validity.
Both credits and admissions can also be used for courses and workshops, provided you have set this pricing option during their creation.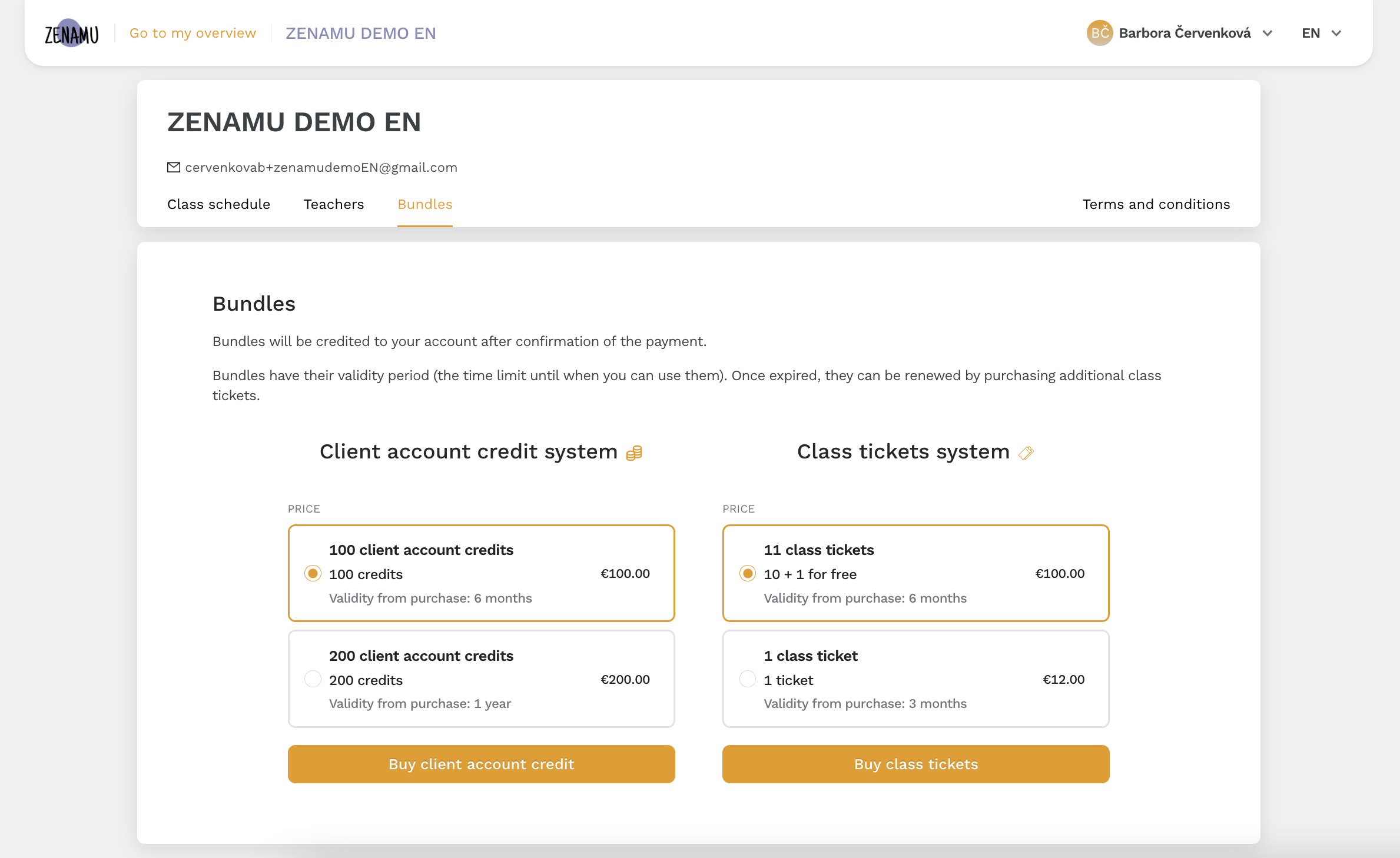 Purchasing Client Account Credit and Class Tickets​
To purchase client account credit or class tickets, your clients need to create their own Zenamu accounts. This ensures the credit or tickets are linked to a specific account.
Advantages​
Simple for both you and your clients
Payments are made in advance
Credits or tickets are automatically deducted after booking
Automatic registration from the waiting list
The credit system ensures transparency, and fair cancellation fees can be established
Which Should I Choose?​
Both systems offer many shared benefits (as mentioned above). So, what sets them apart?
The ticket system is somewhat more straightforward than the credit system and is beneficial if you consistently charge the same price per class. Marketing campaigns like "10+1 free entry" are also more effective with this system. It's especially suitable for individual teachers.
On the other hand, if your classes have varying prices, the credit system will be more advantageous. Additionally, it allows you to set a cancellation policy where clients, for instance, may only receive back 50% of their credits if they cancel a lesson shortly before it begins.
Of course, you have the option to utilize both systems together.
For detailed documentation and setup instructions, see: